family friendly attractions to romantic getaways
Your Arizona vacation shouldn't just be fun and relaxing, it should be unforgettable. When you travel outside the busy cities, you will discover a part of Arizona that is so unique and majestic, you'll find it hard to leave. These must-see attractions represent the top-rated things to do in Arizona no matter what type of adventure you want to experience. When you venture along the Arizona highways you'll discover a whole new part of Arizona waiting for you to explore.
As you travel to northern Arizona, you'll be amazed at the natural wonders that await you. Must-see things to do include Meteor Crater, Grand Canyon Caverns and a stop at the National Geographic® Visitor Center / IMAX before you venture to the South Rim of the Grand Canyon.
These are the largest dry caverns in the United States, located 200 to 300 feet below the surface, and accessible via the exploration elevator. Featuring a Motel, Dinner, Gift Shop, classic Route 66 Gas Station, its own Airstrip, RV camping area with full hookups, plus a Rodeo Ring that regularly holds cowboy events.
Visit the world's best preserved meteorite impact site just minutes from Interstate 40 in Northern Arizona near Winslow. Meteor Crater is the breath-taking result of a collision between a piece of an asteroid traveling at 26,000 miles per hour and planet Earth approximately 50,000 years ago.
National Geographic® Visitor Center / IMAX
Located at the South Rim entrance of the Grand Canyon, the Visitor Center provides news, travel information about Grand Canyon attractions, hotels, a variety of selected Grand Canyon tours and Park passes. Visitors can take part in interactive exhibits to learn about the Grand Canyon, watch our famous IMAX® movie and talk to local area representatives.
Experience the ultimate in animal adventures for all ages. Witness wildlife in natural environments like majestic bisons and black bears from the comfort of your vehicle at Bearizona. Enjoy one-of-a-kind shows at Out of Africa's Tiger Splash as caretakers interact in a predator-and-play relationship in a large pool.
Drive into the Arizona wilderness and witness herd and pack life from the comfort and safety of their own private vehicle or hop on the park's complimentary, open-air Wild Ride Bus Tour. Walk through Fort Bearizona's winding paths to enjoy the antics of more animals on exhibit.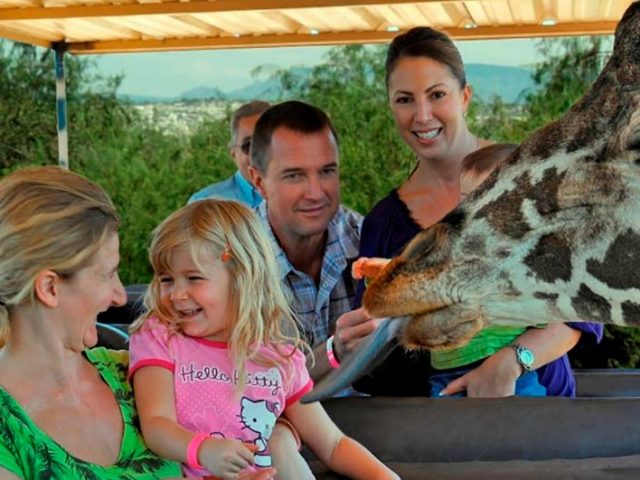 Out of Africa Wildlife Park
Watch fun shows like Tiger Splash and get smooched by a giraffe on your African Bush Safari at Out of Africa Wildlife Park. Enjoy fabulous encounters like the Giant Snake Show, Predator Feed and Wonders of Wildlife Show. With a jungle hut eatery and gift shop, plenty of fun awaits!
Looking for a unique way to move through Arizona, then why not hop aboard a train or fly high over a city? Since 1901, the Grand Canyon Railway has been taking people on a journey to the heart of one of the seven wonders of the world.  Enjoy an unforgettable wilderness and nature show riding aboard the Verde Canyon Railroad, with "the show" changing with every season. Zipline across the Grand Canyon Boulevard that is, as you soar over Route 66!
Grand Canyon Railway & Hotel
The Grand Canyon Railway is more than just a mode of transportation: It's a trip back in time to what many consider the most awe-inspiring place on Earth. With a variety of vacation deals including roundtrip train transportation, overnight accommodations (some at the South Rim), meals, tours and more, your Grand Canyon experience will be complete!
The Verde Canyon Railroad is a wilderness adventure featuring an abundance of native flora and fauna, rugged high-desert rock faces and remarkable vistas. This exclusive view of the Canyon is only accessible by rail. The train passes towering crimson pinnacles, near ancient Indian ruins, over fortified trestles, past a monocline fold and through a manmade 680-foot tunnel.
Safe, simple, and fun! Sit by your friends and soar above one of the best preserved stretches of Historic Route 66 in America! Located just a quick one minute walk from the Williams Train Station, this unique zip line ride is easy and fun for everyone. Just sit down, get strapped in and fly!
Arizona Snowbowl is located on the majestic San Francisco Peaks at 9,500 ft. above sea level, just 14 miles outside Flagstaff, AZ. During winter, this is the best destination for seasoned skiers and boarders, as well as the first-timer. During summer, enjoy hiking trails, summer tubing and more!
The fun doesn't go anywhere when the snow melts. Take in the stunning scenery of northern Arizona from a bird's eye view on Snowbowl's Scenic Chairlift. Explore hiking trails, play disc golf, summer tubing, bungee trampoline, mini ropes course and much more!
Looking for some Western adventure and frontier hospitality? For over 20 years, Blazin' M Ranch has provided visitors to Arizona an Old West experience to remember.  Experience dining, award-winning musical entertainment, ranch adventures, shopping and more! 
Step back in time with the entire family as everyone has fun trying their hand at roping, pitching horseshoes and target shooting. When the dinner bell rings, it's time to feast on the best mouth-waterin' BBQ chicken and ribs followed by a western stage show.